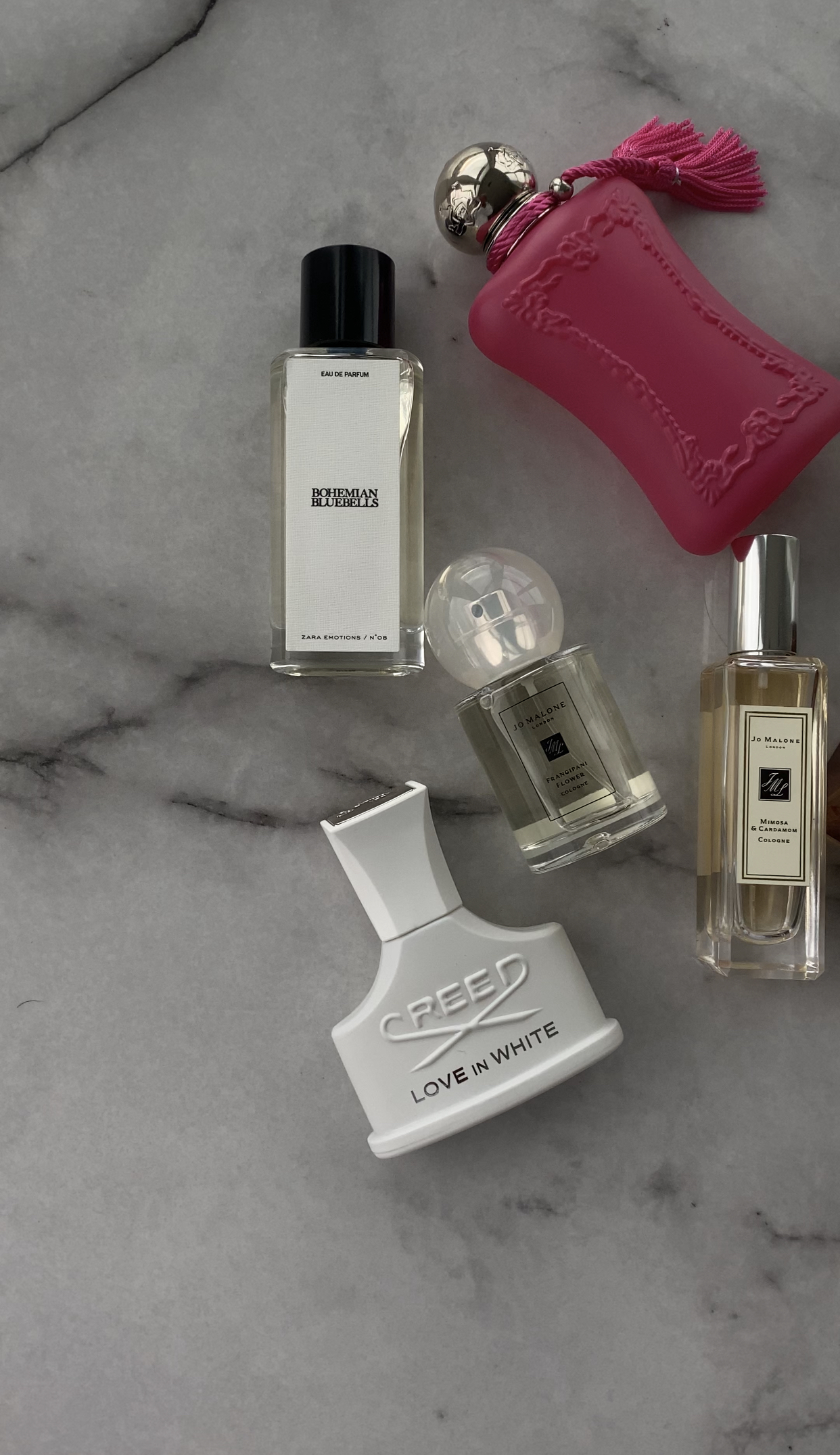 I've been meaning to publish a round up of my favorite fragrances but I've been taking my sweet, sweet time to curate a list. Since a lovely community member recently asked for spring/summer recommendations, I quickly gathered a few of my favorites that fit the seasons.
Scroll below for a short list of my picks that I featured in this reel along with links to shop and full details of the fragrance notes:
+ Frangipani Flower by Jo Malone
My friend Aja recommended this one last spring and raved about it on her YouTube channel. This is such a beautiful floral scent with hints of jasmine and sandalwood. Ideal for spring and summer but I personally would reach for this more during the summer months. It's on the warm side and the sillage is 10/10. Get this during the Sephora sale if you can!
Top note: Jasmine petals
Heart note: Frangipani
Base note: Sandalwood
Rich. Rich. Rich. Funny story I had to stop a woman in Neiman Marcus last year during Spring to ask her what fragrance she was wearing because she just has this intoxicating floral smell that took my breath away! This perfume makes a grand statement.
Top Notes: Orange zest from Italy
Heart notes: Florentine iris, Daffodils from France, Magnolia, Bulgarian rose, Tonkin rice
Base notes: Vanilla, Ambergris, Mysore sandalwood
+ Waterlily Tea Dress Jo Malone x Zara Collab
This fragrance is THAT girl. A subtle fruity, floral perfume. It really displays the beautiful complexity of bergamot. Love, love, love this for day into evening.
Notes: Bergamot, mint, musk
+ Bohemian Bluebells Jo Malone x Zara Collab
A clean-smelling floral fragrance. With this one it's really about the woody, powdery lavender scent it reveals after it dries down. Smells like luxurious dryer sheets. ☁️
Notes: Lavender, sandalwood, musk
A sexy, cozy early spring scent when the weather is still a tad bit crisp and you just want a warm citrusy/floral kiss. Wouldn't necessarily transition this scent into summer but it could definitely work as a date night perfume in my opinion.
Top notes: Kumquat, Mandarin, Orange
Middle notes: Orange Blossom, Jasmine, Almond
Bottom notes: Cashmere, Cedarwood, Vanilla
This is a very warm floral fragrance for early spring. If you're into gourmand scents you'd like this one. For me personally, I like to think of this as the "Rich Auntie" perfume. Prefer this as a night time scent it's too powerful for me as a daytime scent. The black currant and raspberry notes really pack a punch in this fragrance for me.
Top notes: Mandarin, Bergamot, Grapefruit
Middle notes: Orange Blossom, Blackcurrant, Raspberry
Base notes: Marshmallow, Ambrette, Chantilly Cream, Musk
+ Mimosa Cardamom by Jo Malone
Powdery fresh, clean-smelling, sweet but not nauseating daytime fragrance. I love love love this perfume! If you're looking for a good feminine scent to wear every day during the spring season and you're not big on florals this would be my suggestion. Highly recommend!
Top note: cardamom
Middle note: mimosa
Base note: tonka bean
What spring/summer fragrances are on your list?